Gold and commodity investors are urged to hedge their risk in 2022 as volatility continues to grip the market in the wake of interest rate hikes and resurgent demand coupled with supply chain issues.
"Although most of the commodity forecasts in 2022 are neutral, there's a lot of opposing forces at work and there's a lot of volatility in between these forces," says Heng Koon How, head of markets strategy at UOB. "In a bad week you may get a bigger sell-off, in a good week you may get a bigger rally."
One of the opposing forces Heng is referring to is the expected hike in interest rates, which traditionally has a dampening effect on gold and commodity prices. Even before the rate hike, the price of gold dropped by 3.6% to US$1,809.05 per ounce in the 12-month period to December 31 2021, its biggest decline since 2015.
"I know investors like gold and amidst the Covid-19 uncertainty, amidst inflation uncertainty, everybody thinks that gold is a good buy. Unfortunately, no, gold doesn't like rising interest rates. As interest rates go up, gold prices go down. Unfortunately, this is the dynamic," says Heng.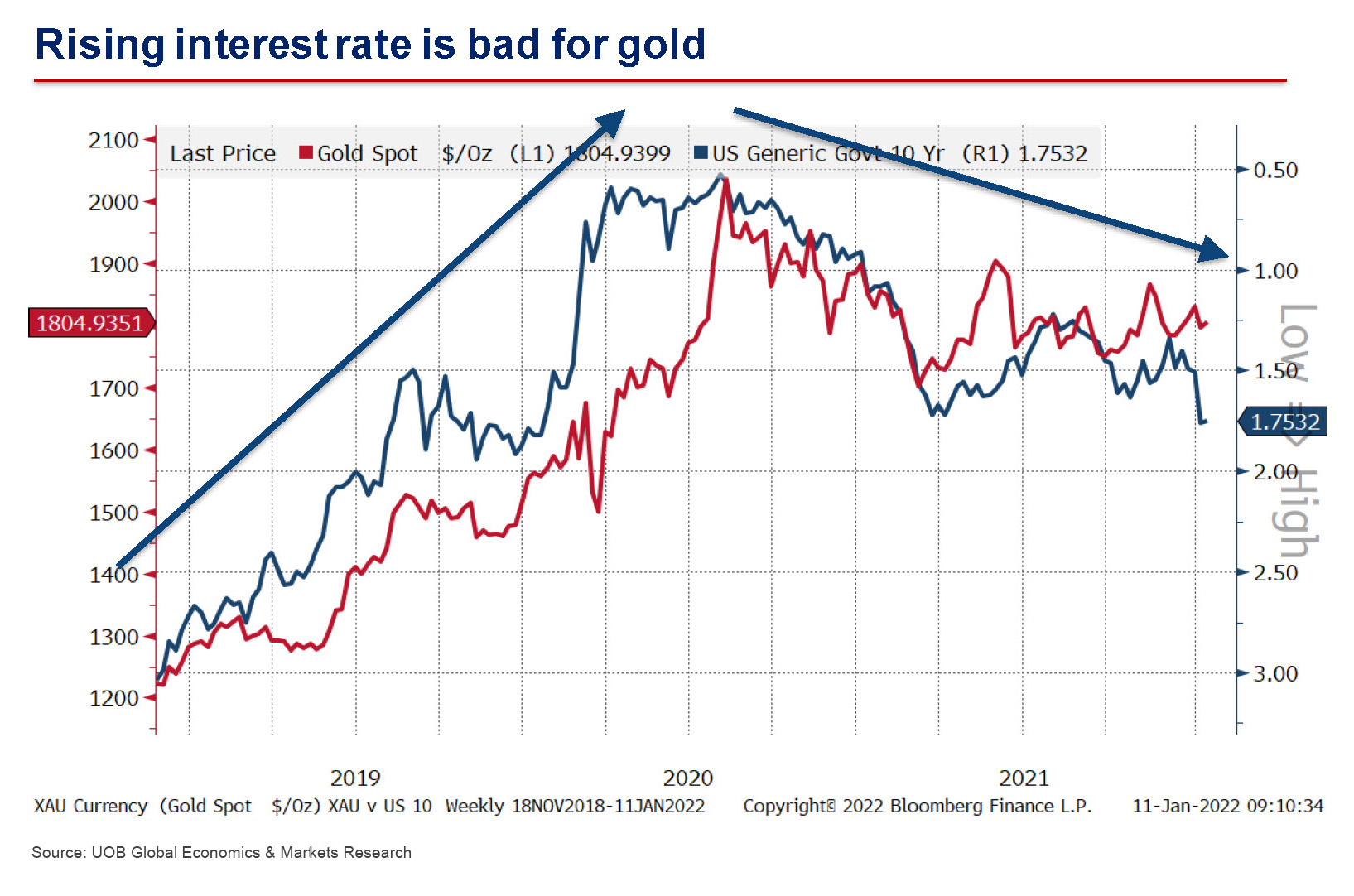 The other of the opposing forces cited by Heng is the expected growth in demand for gold and other commodities, as Asian economies recover from the impact of Covid-19 in the latter part of the year.
"The good thing is that as economies recover, traditional demand for gold is slowly coming back. Weddings are coming back on, we celebrate the birthdays of our grandparents much more. So you can imagine after two years of Covid-19, as banquets come on slowly in a more calibrated manner, there will be more spending on jewellery and that's supportive of gold," he says.
Also, central banks across the world are reallocating gold. "So you have the two forces, rising interest rates on one hand dampening the outlook in gold and all this traditional demand coming back gradually and safe-haven demand supporting gold. Our view is that gold will be stuck around US$1,800 (per ounce). It seems to be the case over the past quarter," Heng says.
Oil prices
Crude oil prices are also expected to remain stable at about US$80 per barrel at least during the first half of 2022, depending on how quickly demand for this commodity will recover to pre-pandemic levels.
"The thing about crude oil is that the Covid-19 slump and lower demand is more or less over. Global demand for oil is now back to just under 98 million barrels a day. The question is how soon it will go back to above 100 million barrels. Before Omicron, we were thinking that perhaps it will be first quarter this year. Now that Omicron has happened, perhaps it's delayed by one or two quarters, but it should get back to 100 million barrels a day by the end of the year," Heng says.
Other factors that will impact oil prices in 2022 include the fact that OPEC is slowly increasing production to pre-Covid levels and the continuing impact of US President Joe Biden's move to release additional oil supplies from the Strategic Petroleum Reserve (SPR) as part of ongoing efforts to lower prices and address the lack of supply around the world.
"We think crude oil will probably consolidate around under US$80 per barrel for a while until we see a clear global growth recovery post-Omicron. And we may get that in the second half of the year," Heng says.
Copper demand
With regard to copper, commodities analysts forecast that the market supply will change dramatically from a small deficit in 2021, due to a drop in demand and supply chain disruptions, to a huge surplus in 2022 as the supply chain issues are resolved.
According to a study by the International Copper Study Group (ICSG), the refined copper market saw a deficit of 479,000 metric tonnes in 2020. The ICSG forecasts a small deficit of 42,000 metric tonnes in 2021 but it expects a massive supply increase in 2022 will exceed demand by 328,000 metric tonnes.
This forecast surplus is based on the assumption of a 3.9% increase in refined output, the biggest increase in eight years, with copper demand expected to see a 2.4% increase, ED&F Man Capital Markets analyst Edward Meir said in a note on December 7 2021.
Heng says copper prices depend a lot on industrial activity in China, which decreased substantially during Covid-19. "When China's industrial activity drops, it's very hard for copper prices to stay up there," he says. "On the other hand, global copper inventory is now at a record low because of all the supply chain disruption. That's basically disrupting the proper delivery of copper and that's keeping copper prices up. So on balance we think copper will be stuck again in between both opposing forces and just hold around under US$9,000 per metric tonne for London copper."
"This is the dynamic and this is the landscape for this year as interest rates rise, as commodity prices basically struggle against higher interest rates as well as recovery in demand. Volatility is the word for the commodity space this year, and for investors, for businesses you need to hedge your commodity risk," Heng says.