Covid-19 has caused unprecedented disruptions in the financial markets, but it has also prompted industry players to rethink their operations, look for new ways to better serve the needs of their clients, and make wiser investment decisions. Indeed, the past 12-18 months have provided huge opportunities for members of the investment community, including index providers, to be more resilient in order to grow.
When talking to the candidates of this year's The Asset Triple A Private Capital Awards, the board of editors of The Asset noted that the pandemic has brought to the fore the importance of sustainability, of environmental, social and governance (ESG) factors, among investors and asset managers.
In Asia, total ESG assets reached US$25.4 billion as of the end of 2020, according to market data. And MSCI's Global Institutional Investor Survey this year found that around 79% of investors in Asia-Pacific increased ESG investments significantly or moderately in response to Covid-19.
Index providers also note that investments tracking ESG indices have increased significantly in the wake of the pandemic. For example, assets under management (AUM) of ESG exchange-traded funds tracking S&P Dow Jones Indices' ESG indices recorded an astonishing 400% increase in the first quarter of 2020.
Developments in China are particularly noteworthy. Previously, ESG investing had never been a major theme among Chinese investors, especially retail investors. But in view of the country's carbon neutrality goal, Chinese index providers say that ESG has started to gain traction among investors, both onshore and offshore. In response, index providers have been actively launching new ESG frameworks or revising and updating existing mechanisms.
Another major trend among investors is the rise of thematic investment, which is gaining popularity because of its capability to capture long-term investment opportunities.
Take the Hong Kong ETF market as an example. In 2020, there was about HK$15 billion worth of cash flow going into Hong Kong-listed thematic ETFs. This volume was matched in the first quarter of 2021 and grew further to almost HK$50 billion at the end of July this year, according to the latest report from Hong Kong Exchange and Clearing.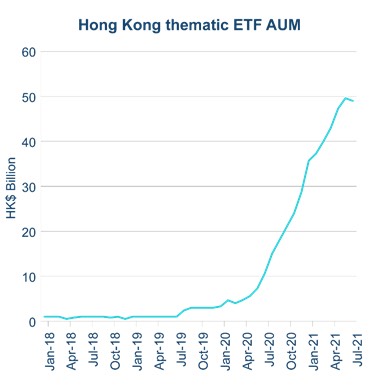 Source: HKEX
Demand for index-based thematic investment solutions is also strong in markets such mainland China and Taiwan, with themes such as 5G, new energy, healthcare and ESG becoming increasingly popular.
This year, The Asset has added a new award category, Best Index Provider, Thematic, to highlight the growing interest in the area.
Last but not the least, the market has seen a growing demand for investment solutions looking into crypto and blockchain assets. Index providers have shared with The Asset the increased interest in benchmarking and index-based solutions based on crypto and blockchain assets as a result of the growing perception of opportunities in this evolving landscape.
Though first movers like S&P Dow Jones Indices have rolled out indices that measure the performance of digital assets including bitcoin and ethereum, challenges such as the lack of transparency in this space remain.
To address the index providers' efforts of offering better products and services in this emerging space, The Asset this year has announced a new award category, Best Index Provider, Digital Assets.
To see the complete list of winners, please click here.
For more details about the awards, please click here.
For more information about receiving the awards, please contact events@theasset.com.