An old saw warns that the road to hell is paved with good intentions. Similarly, avoiding catastrophic global warming will require more than just platitudes.
Some hard decisions about who gets to bear the financial burden of the low-carbon transition are still to be agreed upon globally – and explained to voters.
Ultimately, there are no low-cost options when it comes to tackling climate change. Shifting to a renewable energy future means making fossil fuels more expensive. To reach that goal, we need a more accurate pricing mechanism for greenhouse gases. And within that overall objective, calculating carbon costs at the sectoral level is perhaps the hardest challenge of all.
National initiatives
Negotiations at the 2021 United Nations Climate Change Conference (COP26) in Glasgow have focused largely on national and international greenhouse gas emissions (GHG) targets.
Many countries have set new, more demanding climate objectives. Schemes for the pricing of carbon emissions are key to reaching those targets.
More than 60 such schemes have now been implemented globally, including a widely anticipated carbon market in China, the world's largest national emitter of GHGs.
National programmes still have a long way to go. According to the IMF, four-fifths of global emissions remain unpriced and the global average carbon price is only US$3 per tonne.
But carbon emissions prices are likely to rise sharply from here. The Network for Greening the Financial System (NGFS), a group of 91 central banks and supervisors, recently said the carbon price may hit US$160/tonne this decade to reach a net-zero emissions target by 2050.
The sectoral challenge
As carbon prices rise, there's another challenge facing policymakers: there are large differences between sectors in terms of their ability to decarbonize. For investors, spotting and quantifying these differences is hard but increasingly important.
The question of allocating carbon costs by sector is where climate change theory very quickly runs into technological constraints, historical legacy, national interest and realpolitik.
For example, without a major technological breakthrough, such as the development of hydrogen-, biofuel- or battery-powered commercial aircraft, it would be impossible for most airlines to decarbonize their operations without facing bankruptcy.
The same cannot be said of an electric utility, which can more easily switch to renewable energy. In India, as an example, around half of the country's power generation currently comes from coal-fired plants. A change to alternative sources shouldn't be too costly or difficult to achieve.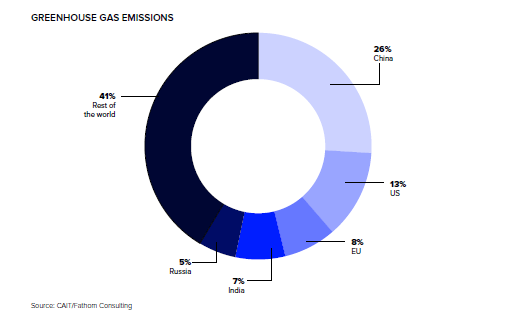 Decarbonization pathways
National targets for the reduction of GHG emissions can be seen as a relatively blunt tool, although they are simple to understand and compare.
But if a flat, economy-wide carbon tax were imposed, those industries with less ability to decarbonize would suffer greater costs. Given the difficulty of applying a single GHG target across the economy, we can expect sectors to decarbonize at different rates.
Policymakers recognize this by setting regulations and taxes according to the decarbonization potential of whole industries.
In the UK, for example, the government has recently brought forward a future ban on the sale of new petrol and diesel cars in recognition of the growing ability of electric cars to replace them.
It's possible to extend this approach beyond simply measuring the cost and availability of low-GHG alternatives to current production.
To create a systematic framework for emission reduction pathways across sectors, we should also consider things like research and development rates, access to financing and the outlook for carbon capture, usage and storage (CCUS).
Fathom, an independent macroeconomic, geopolitical and financial market research consultancy, using Refinitiv Workspace has calculated a series of decarbonization pathways for each stock market sector, based on different levels of policy ambition.
For investors, there are a number of implications of these varying decarbonization paths.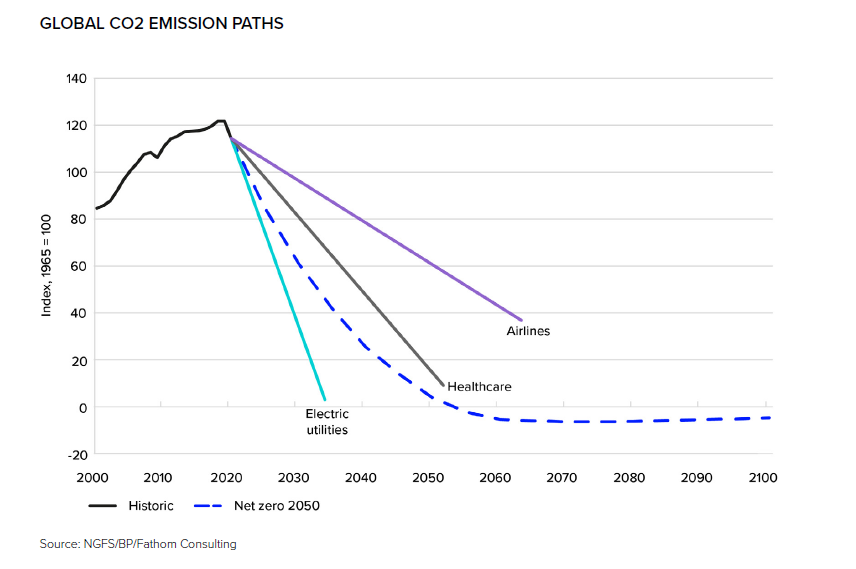 The sectors in which it's hardest to decarbonize may face the greatest regulatory uncertainty. But they are also the sectors in which technological breakthroughs are most beneficial.
More broadly, technological advances and falling prices in hydrogen, as well as new carbon capture technologies (such as direct air capture with carbon storage) and electric battery recycling, will create major investment opportunities across a range of sectors.
Narrowing the scope
To reap the full benefit of carbon emissions analysis across sectors, we need to improve companies' carbon accounting, with a particular emphasis on 'Scope 3' emissions reporting.
(Scope 1 emissions are those created directly by a company, Scope 2 are those generated by someone else but purchased, and Scope 3 emissions are those generated downstream from the company – car manufacturers' GHG emissions are mostly Scope 3, for example).
Scope 3 reporting is still rather patchy. To take an example, Scope 1 and 2 emissions are available for 97 out of the 100 companies in the FTSE 100 index, but Scope 3 emissions data are available for only 72 of those companies (Refinitiv provides an estimated figure for the absentees). There are similar gaps in many global stock markets.
But investors now increasingly demand better-quality carbon disclosures and those dragging their heels may soon be perceived as having something to hide – and penalized as a result.
Small steps to reach a major goal
More accurate sector-based GHG emissions reporting will also serve the main aim of a carbon tax – improved collective action.
Harford suggested we should focus on easier-to-manage small improvements rather than the daunting goal of the climate transition.
"It seems like a huge leap to decarbonize the world economy, but it is better understood as a trillion tiny steps," he said.
Good-quality data and a reliable, sector-based decarbonization framework can help us all during that coming, multi-year journey.