Singapore-based Keppel REIT has agreed to acquire a 100% interest in Blue & William, a freehold Grade-A office building currently under development in North Sydney, for A$327.7 million (US$234.3 million).
Shirley Ng, deputy chief executive officer and head of investment at Keppel REIT Management, says: "In line with our active portfolio optimization strategy, this DPU-accretive investment brings an initial net property income yield of 4.5%, which will enhance Keppel REIT's overall portfolio returns. At the same time, regular coupon will be received throughout the development phase, providing robust risk-adjusted returns."
The acquisition also marks Keppel REIT's expansion into North Sydney, a major commercial district with positive leasing dynamics. North Sydney is New South Wales' second largest office market after the Sydney central business district, and a location of choice for diverse industry sectors including technology, media and telecommunication, as well as the professional services and insurance sectors.
Notwithstanding the pandemic, North Sydney recorded its third consecutive quarter of positive leasing demand in the three months to September, with new and refurbished buildings continuing to be drivers of leasing activity. With no new significant supply anticipated in the district until 2024, the market is well placed to absorb the current availability of stock and drive vacancy down, Keppel REIT notes.
Offering a total net lettable area (NLA) of about 14,000 square metres, the property sits at the prime intersection of 2-4 Blue Street and 1-5 William Street, and is 160 metres from the North Sydney Train Station. With the expected completion in 2024 of the Victoria Cross Metro Station, which will be located about 350m from the property, commuting time to Barangaroo and Martin Place in the Sydney CBD will be reduced to approximately three minutes and five minutes respectively.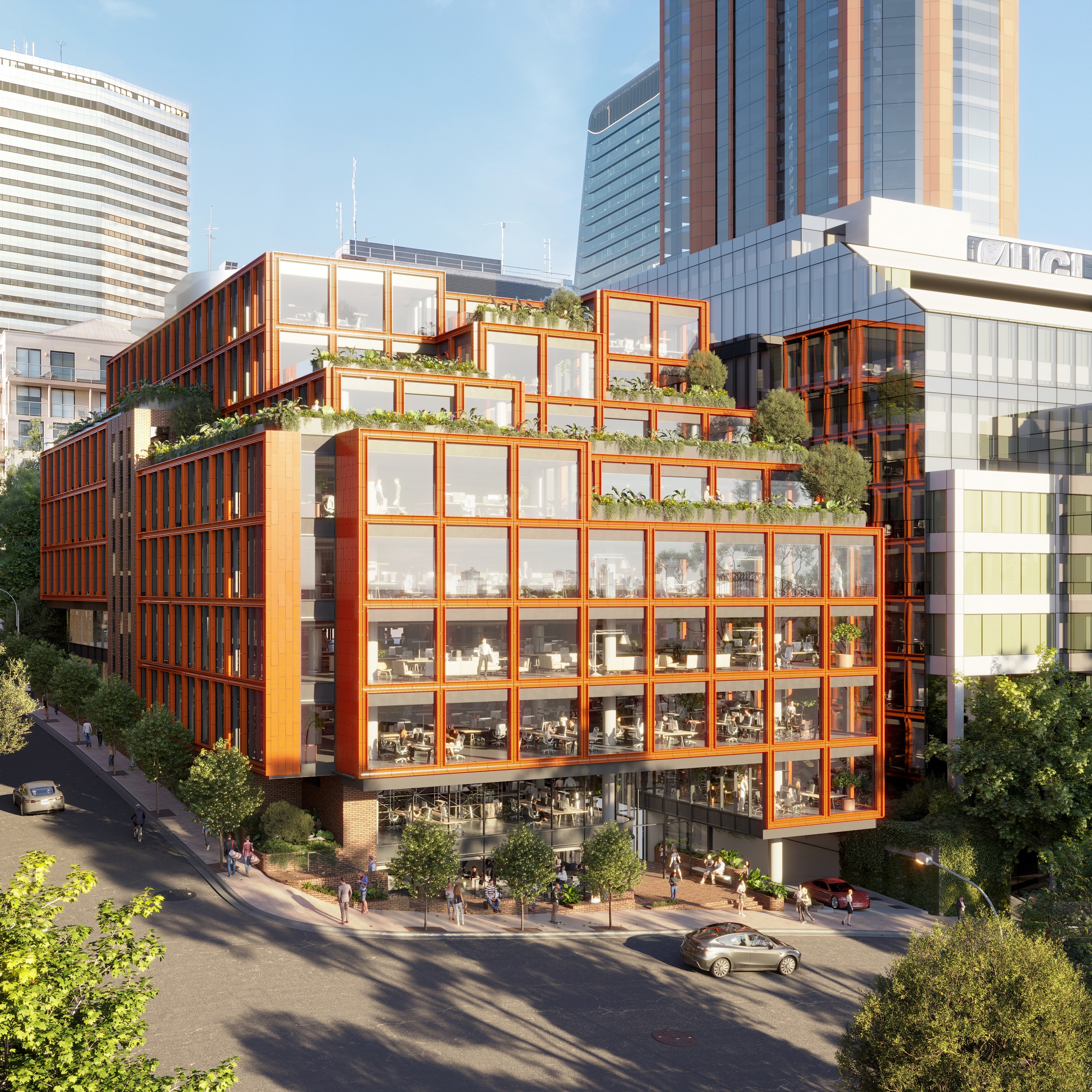 Artist's impression of the exterior of Blue & William.
Designed by leading global architecture firm Woods Bagot, Blue & William will feature outdoor terraces overlooking the Sydney Harbour Bridge, as well as an on-site café and end-of-trip facilities. The property is designed to achieve the 5 Star Green Star Design and As Built Rating by the Green Building Council of Australia, as well as the 5.5 Stars National Australian Built Environment Rating System (NABERS) Base Building Energy Rating.
In addition, it will incorporate smart building technologies such as destination control lifts and motion detection lighting control systems. The developer of the property, Lendlease, is a globally integrated real estate and investment group headquartered in Australia.
The acquisition is targeted to be completed by the end of the year, with practical completion of the development estimated in mid-2023.
A three-year rental guarantee will be provided by the developer on any unlet space after practical completion. The investment will be fully funded with Australian dollar-denominated loans for natural hedge, with progressive payments to be made based on construction milestones. Post-acquisition, Keppel REIT's aggregate leverage would be approximately 39.9%.
Upon practical completion of Blue & William, Keppel REIT's assets under management (AUM) will grow to S$9.0 billion (US$6.58 billion) across 11 properties in Singapore (77.1% of AUM), Australia (19.5% of AUM) and South Korea (3.4% of AUM), and the proportion of freehold assets in its portfolio will increase from 30.1% to 32.6% by NLA.