After years of being ignored because they earned almost zero percent interest, Hong Kong dollar time deposits may be a good bet for investors who are content with a well-performing, relatively safe asset class, and want to sit out the expected market volatility of other asset classes in 2023.
In fact, Hong Kong banks are now competing with each other to attract cash from retail and high-net-worth (HNW) depositors by offering preferential interest rates ranging from 4% to 5.5% for time deposits with maturities of three months, six months, and 12 months, with a minimum deposit of HK$10,000 to HK$5 million.
The trend of rising time deposit rates for HK dollar deposits began in June 2022 when the US Federal Reserve started hiking US dollar interest rates (the HK dollar is pegged to the US dollar). Before that, HK dollar interests were almost zero percent for two years, according to statistics from the Hong Kong Monetary Authority.
Since more interest rates hikes are expected in 2023, HK dollar deposit rates are likely to increase further this year, providing earning opportunities for investors with relatively conservative risk appetites.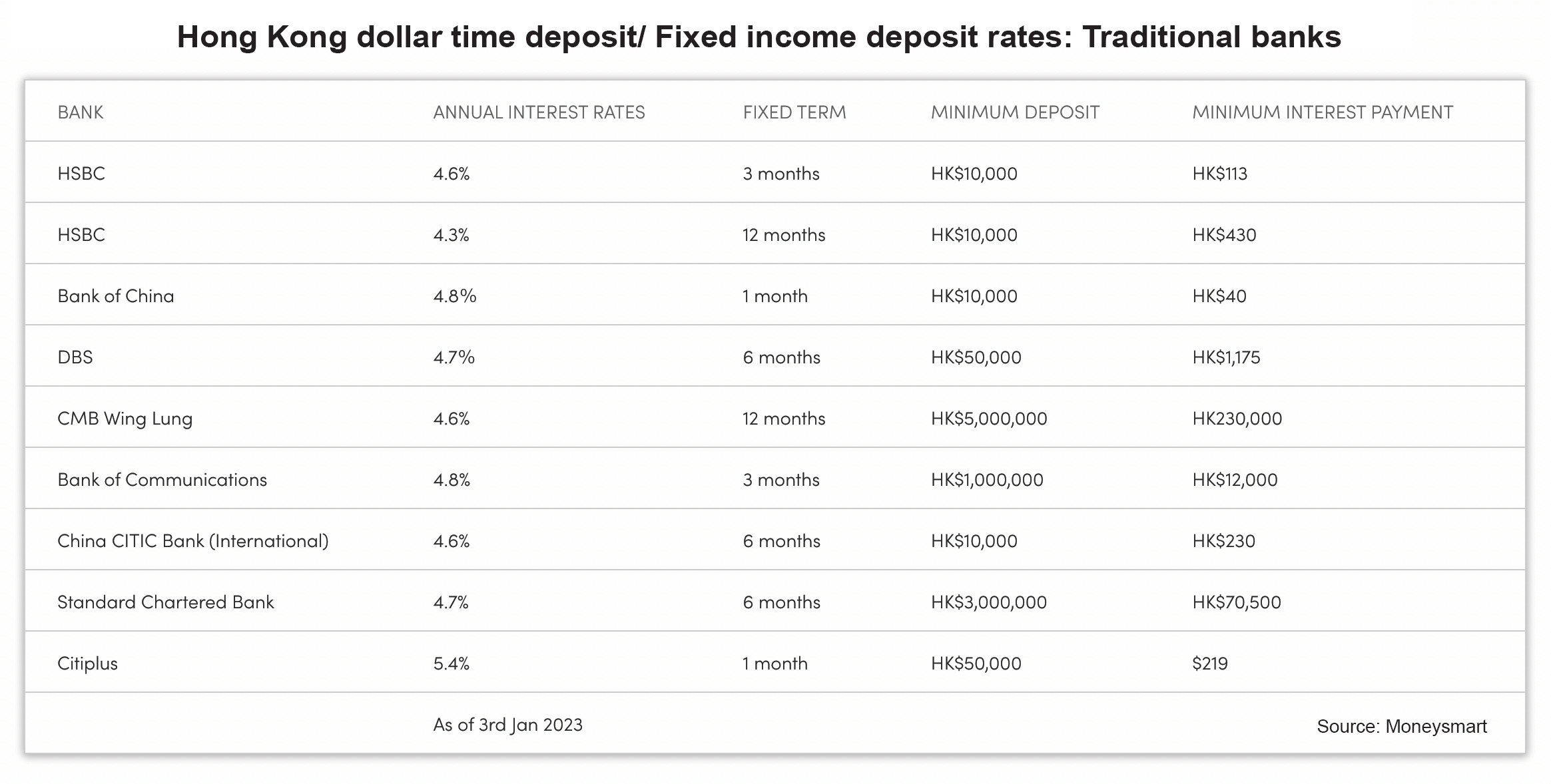 The only possible risk for time deposits, and bank deposits in general, is rising inflation. But although the Fed is expected to continue raising rates to curb inflation in the United States, and by extension the global economy, Hong Kong's annual inflation fell to 6.5% in December, the sixth consecutive month of decline.
With Hong Kong's open economy, the impact of imported inflation is weaker in the city when compared to Singapore, South Korea and Taiwan. On the other hand, the Hong Kong economy is expected to grow by 2.8% to 3.8% in 2023. Analysts forecast that a stronger economic growth may put upward pressure on inflation that may negatively impact deposit rates.
But unless there is a huge spike in inflation rates in the near term, time deposit rates still provide good earnings potential for retail and HNW investors in 2023.
Time deposits are considered as stable and safe investments as they give depositors regular and guaranteed returns, suitable for investors who prefer relatively low returns with known risks.
Meantime, both traditional banks and virtual banks in Hong Kong are competing heavily to build up their market share of time deposits. Virtual banks are offering much lower minimum deposits ranging from HK$1 to HK$1,000 but relatively lower rates than the traditional banks.